Michaels Breaks Ground On Cooper Plaza Townhomes Preservation
---
FILED TO:
What's New
Michaels latest Camden develop will offer rehabilitate and preserve 64 historic affordable housing units in Cooper Plaza historic district.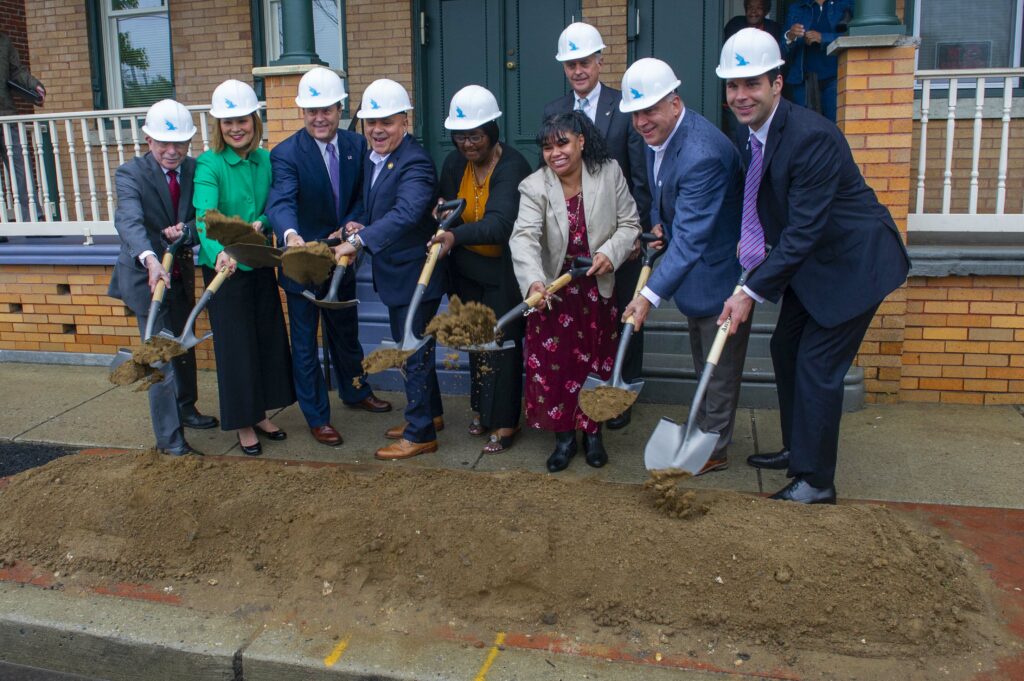 City leaders and residents gathered today at Cooper Plaza Townhomes, a long-standing affordable housing community in the Cooper Plaza Historic District, to celebrate the official groundbreaking for a major renovation by The Michaels Organization. After the renovation, the community will provide updated affordable homes to Camden families and will remain a valuable housing asset for decades to come.

"We are so grateful to the city's leadership for their support and their commitment to preserving affordable housing as 'Camden Rises,' and we are privileged to make their vision for this historic and critically important housing resource a reality," said John J. O'Donnell, Michaels' Chief Executive Officer. "
The $14 million renovation and rehabilitation of Cooper Plaza Townhomes will modernize both the interiors and exteriors of the 64 townhomes in the original community. Major upgrades to building systems will include new HVAC and mechanical systems, new roofs and windows, porch improvements, new EnergyStar appliances, and the construction of drainage and waterproofing systems throughout the community, which will address current water filtration issues. Interior improvements will include renovated kitchens and bathrooms and new luxury flooring throughout all homes.
"Cooper Plaza Townhomes have long been a place for Camden residents to call home, and now it's time the homes receive the attention and care they need to continue to be a haven for families returning after a long day at school or work," said Camden Mayor Frank Moran. "By the time Michaels is done, you better believe each of these units will be a wonderful place to call home."
All 64 townhomes of Cooper Plaza will remain 100% affordable, serving households who earn less than 80% of the Area Median Income. The community is currently comprised of 32 two-bedroom units and 32 three-bedroom units; the renovation will maintain this structure.
Located just a short walk to employment, schools, and the Walter Rand Transportation Center, Cooper Plaza Townhomes are also in a designated promise zone, which means that residents of the newly-refurbished townhomes will have access to various success centers in the neighborhood sponsored by the Center for Family Services.

The majority of the 64 townhomes are currently occupied, but a strategic plan has been devised by the developers to minimize inconvenience to current residents: the development team will begin renovations on the dozen or so vacant units in the community and upon completion, these initially-renovated units will serve as "hotels" for current residents as further renovations are completed in the occupied homes.
Financing for the rehabilitation and preservation of Cooper Plaza includes $4.1 million in private equity raised from the sale of federal Low Income Housing Tax Credits and $6.8 million in permanent conduit bond financing, both allocated by the New Jersey Housing and Mortgage Finance Agency. The New Jersey Department of Community Affairs provided $1.6 million in assumed mortgage funding and Camden County provided $300,000 in Trust Funds to the preservation. Additional funding includes a $3.1 million permanent mortgage provided by Berkadia and a $6.9 million construction loan from TD Bank. Fulton Bank invested in the tax credits, which were syndicated by Riverside Capital.

"Big projects like these have a lot of moving parts, but with more than 20 partners working hard to make it happen, everything came together quite nicely," said Kris Kolluri, President and CEO of Cooper's Ferry Partnership. "With our plan and financing now in place, we look forward to delivering high-quality and affordable housing for Camden families."
Michaels Management will provide property management services, and Michaels' co-developer, the nonprofit organization, Better Tomorrows, will provide supportive services. Michaels Construction will serve as the general contractor and Kramer + Marks will act as the Architect on the project.

Construction is expected to be completed by year's end.

Back to News
Next article